THIS is my beautiful niece and in March she turns 6! (Wow, does time fly) Her mom sent me a text today announcing that she wants to have a Hannah Montana Birthday Party and asked if I could help her find some ideas. WOO HOO!!!!! I love parties!!!
I'm not a big fan of the cutesy theme "overkill." I like working with one big theme piece, like this 5 feet tall Hannah Montana Scene Setter (Party City for $5.99) and then coordinating the decorations with the colors. (What a cute back drop for photos!)
Last year, Bug and I attended Rylee's super cute
Hannah Montana/Rock Star Birthday Party!
I love the hot pink zebra theme...throw in a little purple and you've got a party!!!
For the party activity, Rylee and her friends made a music video. With 6 year olds, I think it would be fun to have a trunk of rock star clothing and props and do a dancing fashion show.
How cute would it be to line the "runway" with these
Wallies Chalk Board Sheets
and let the girls decorate them!
Miley's super cute dressing room is the perfect inspiration for party colors. (How much fun would it be to paint an old pair of roller skates to look like Miley's?)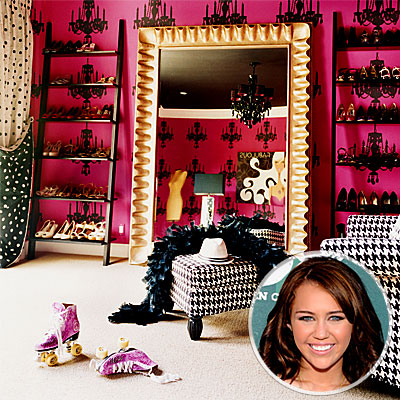 Need a lil Zebra inspiration? The
SASSY
& CREATIVE Mommy, over at
Together Is Our Favorite Place
threw her daughter THE coolest, most creative and fantastic zebra & hot pink party EVER!!!! There is so much inspiration on her blog. WOW!!
LOOK at
this table setting from Personally You Parties
!!!!! I'm thinking it would be cute with multi- colored
microphones
, instead of flowers. My sister-in-law has a HUGE dining room table that would make this the perfect "centerpiece" for the whole party!
Party Food:
I have read that Miley/Hannah's favorite food is Chinese. (not sure if that's good for a 6 year old audience) Perhaps serving her other favorite's, in cute little Chinese Food take-out containers, would be fun. She likes Starbursts, Gummy Bears, Peach Rings, Dots, Lucky Charms and Sugar Cookies.
Party Favors:
Our Hobby Lobby always has Hannah Montana goodies in the clearance section AND The Disney Store has
Hannah Montana Party Favor Sets (for 4) on sale for $5.99!
! They also have
party sets for 8
on sale for $5.99! Another alternative is cute little bags with nail polish and lip gloss. (2 items my niece REALLY loves!) OR how about these cute lil
monogrammed mirrors
...
More Rock Star/Hannah Montana Party Inspiration:
Aspired Kreations
Designed To Be Sweet Invitations
I'm loving these musical note cupcakes, too!
How about these ADORABLE Microphone Cupcakes from The Celebration Shoppe!!