I attend and host an INSANE amount of parties in the months of May, June and July. I have come across SO many FABULOUS party and gift ideas today. Here is a little sample of the fun...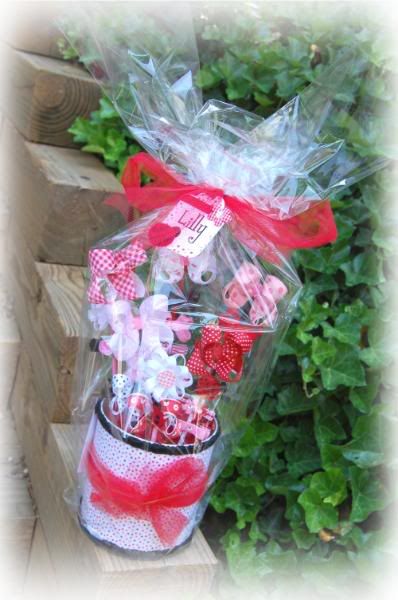 Lulu and Junebugs
Hair Bow Bouquets
WOW, I thought using hair bows to decorate wrapped packages was a good idea but AS THE GIFT!!! I LOVE IT!!!
Mommy Topic's CANDY CAKE!!!
The hubby LOVES M&M's and since we have the same birthday, I'm sure I will get at least one slice. YUMMMMMYYYYY!!!
OR
Mommy Topics Customized Party Plate Tutorial
!! STOP IT!!! The possibilities are ENDLESS!!! These would even make a great hostess gift, right? LOVE IT!!
Ok, Ill admit it. I have a new "blog crush!"
Do you blame me?
After reading
Rachymommy's
"About" I've decided that she needs to be my next door neighbor. What a neat lady with FABULOUS ideas and anyone who
loves 80's movies
as much as I do MUST be cool!
Hugs,
Tara