I am hosting a baby shower for our neighbor, Rashida. She's one of those really tiny ladies that really does look like she is going to POP, so I think it is the perfect theme for her shower!
I got a hint of the "she's about to pop" theme at a
shower
I attended last year. The party favors were cute lil' bags of popcorn with a note that read, "Heather's little bundle of joy will be popping out soon! Thank you for being part of her special day. We are so glad you could stop by to play!"
Then I saw THIS on
Me and My Insanity's Blog
Popcorn, soda pop, lollipops!!! All sorts of fun "pops" to work with! If you are planning a She's About To Pop shower for someone expecting a girl you will LOVE her invitation idea.
Check out
THESE
invitations..
Since Rashida is having a boy, I decided to go with these
invitations
The circles remind me of bubbles (who doesn't love to pop bubbles) and the colors match her nursery. I cannot wait to stop in to Popcorn Papa for BLUE POPCORN and I plan to use blue and brown Tootsie Pops!
I think I'll even have a little bubble wrap, so the guests can "make a wish and pop some bubbles for baby." Who doesn't love
bubble wrap
.
I think this
Jiffy Pop Thank You idea
would make a cute party favor too!
This is a super cute lolliPOP idea from The Craft Patch, that can be used as decor and a gift!
I was planning on making a diaper wreath but may try to do a diaper version of these burp cloth pops.
I also LOVE this "cupcake" idea from
Suzanne!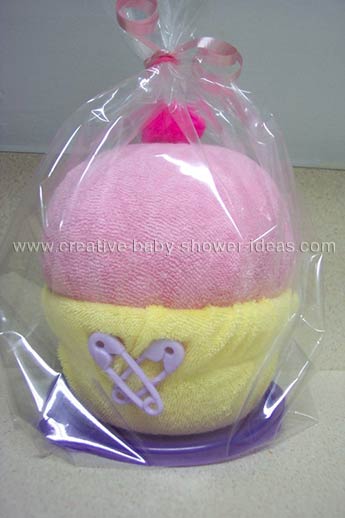 She took a snack cup and used it for the bottom of the cupcake. Then she took a baby washcloth and covered it. Inside she placed assorted baby items. For the icing part, she used a soft baby ball and wrapped diapers around it. Then took another washcloth and tied it around the diaper ball. She placed the ball on top. She used the lid to the cup as it's plate. TOO CUTE!!!
I plan to incorporate
Donna Hay's
super SASSY idea for the soda pop bottles!
Just wanted to share the shower plans. I cannot wait for everyone to POP on over and celebrate baby time!!! -wink- Yes, I had to go there.
Hugs,
Tara