I'm loving fall SOOOOOOO much that I decided to change the entire theme for the baby shower that I'm hosting. (Someone just needs to get pregnant so I can revisit the "She's About To Pop" Theme, any takers?) Since every one's autumn decorations are up I thought it would be the PERFECT time of year to have a "Little Pumpkin" themed shower. After all, I call my lil one's pumpkins all the time!
After seeing
THESE
invitations, I knew I had made the right decision. SUPER CUTE, right?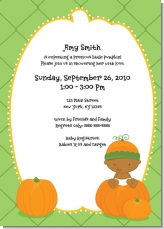 And
THESE
favor tags just sent me OVER THE EDGE!!!!
These cute little dudes will go on bags of roasted pumpkin seeds with a note that says, Thanks for celebrating Rashida's Little Pumpkin. David Noah will be "sprouting" soon!
The folks over at
Plan The Perfect Baby Shower
have these super cute Lil' Pumpkin Trivia Games. I think I'll follow their lead but incorporate some baby facts in there too.
The Pumpkin Lady
has a FABULOUS tutorial for these ADORABLE
Chalkboard Pumpkins
.
I'm planning to paint baby faces on then and write out baby's name!
The FOOD ideas are endless.
Pecans.... Pears...Maple Balsamic Dressing!!!! Can you say
Tyler Florence's Fall Salad
???? MY MOUTH IS WATERING!!!
Pumpkin Spice Popcorn!!!!
We are having a traditional cake so i thought I would make a bite sized version of
Better Homes and Gardens Harvest Time Pumpkin Bars
.
AND
Better Homes and Garden's Gingersnap Crumble Pumpkin Parfaits
.
YUMMMMMMMMMMMMMMMMMYYYYYYYYYYYYYYYYYYYY!!!!!
Hellga over at
Craftster.org
posted this fabulous tutorial for a diaper wreath.
I cannot wait to make the Little Pumpkin version.
I just made this
SUPER CUTE Banner
that Kathleen has posted on her blog. Cannot wait for the shower so I can hang it up.
I'll post photo's after the shower. Happy Fall Y'all!!!